If you're searching high and low for a specific auto part and just can't seem to find it anywhere, the answer to your search might just lie in auto salvage yards in Marlow Heights, Hillcrest Heights, Temple Hills, and Prince George's County, MD. Make your first visit to Chuck's Used Auto Parts and we promise you'll leave with exactly the part you need—whether used, remanufactured or even brand-new!
Used and new auto parts

Our automotive parts store in Marlow Heights, MD has an inventory of different vehicle components, regardless of make or model, in order to bring you the widest possible selection of used and new auto parts. We specialize in the knowledge of GM products, including Buick, Cadillac, GMC and Chevy. From make and model-specific parts to general parts, we'll be glad to help you find what you're looking for at an affordable price.

Remanufactured auto parts

For more complex parts—like motors or transmissions—we offer a great selection of remanufactured auto parts. We sell rebuilt rear end assemblies, and transfer cases.
We stand by one of the best warranties in the business. If you buy a part and it doesn't work or fit, we'll either replace it or refund your money!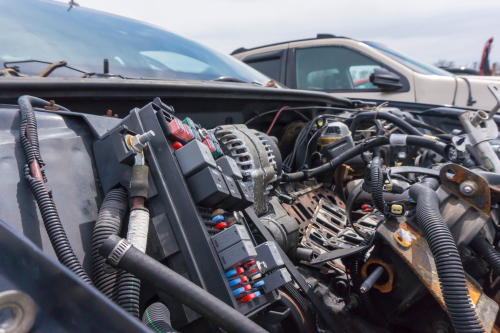 Auto Salvage
Though we deal primarily in auto parts supply, we're also a well-respected auto salvage yard! If you have a vehicle you want to sell or get rid of, give us a call and we'll come pick it up. We offer pickup, to the local DMV area. We'll schedule a pickup time that's right for you and use a rollback tow truck to transport vehicles. All pickups are done free of charge!
For more information about our auto salvage yard or to inquire about a specific auto part you might be looking for, contact our automotive parts store today at 301-423-0007. We'll be glad to help you find exactly what you're looking for.